26 February 2023 11.00 — 16.00 hours
Digital Clothing Design in CLO 3D by dis_placed
Workshop and exhibition tour
How is digital clothing actually made? What possibilities are there in a digital environment that you don't have in the physical world when it comes to clothing design? During this program you will get answers to these questions and more by designing digital clothing yourself in the Digital Atelier of Huis73. This program takes place in the context of the exhibition Screenwear – Exploring Digital Fashion, through which you will be given an exclusive tour by Anne-Karlijn van Kesteren who curated the exhibition.
During this workshop, Giancarlo Pazzanese from dis_placed, whose work is part of Screenwear – Exploring Digital Fashion, will explain the basics of CLO 3D. This is a software program that allows you to design digital clothing in a quick and hassle-free way in a user-friendly interface. Visualize the fabric, fit and silhouette of your design as fast as you can imagine them! During the workshop you will get to know the basics of CLO 3D by designing a hoodie.
(text continues below image)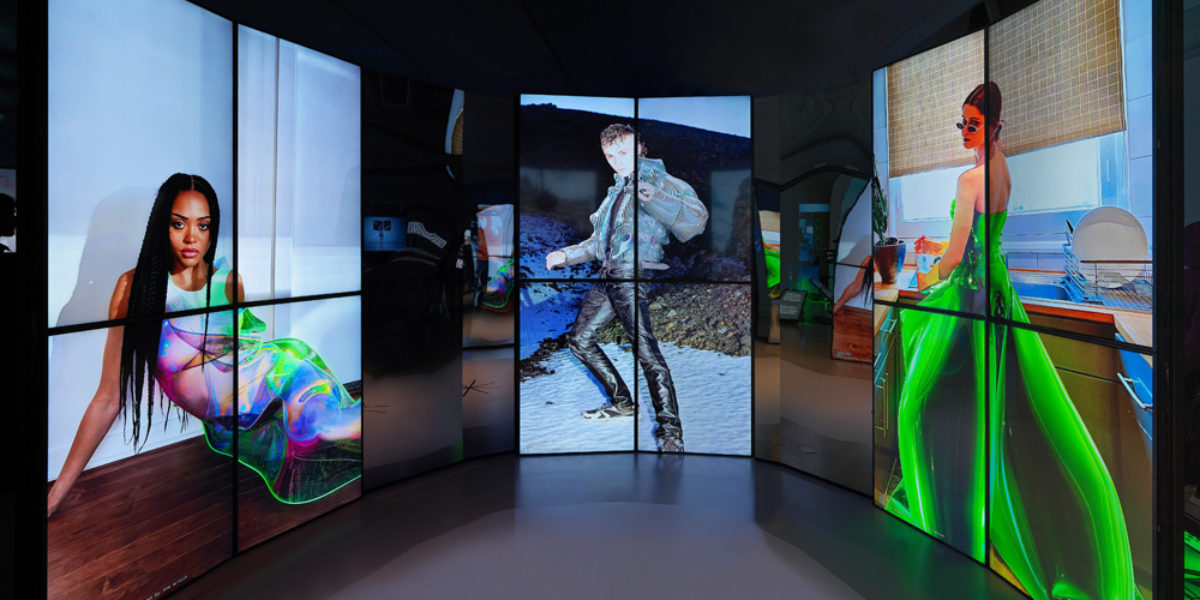 Programme
11:00 – 12:00 guided tour through Screenwear – Exploring Digital Fashion in Design Museum Den Bosch by Anne-Karlijn van Kesteren, curator Screenwear
12:00 – 13:00 Lunch in Design Museum Den Bosch and off to Huis73
13:00 – 16:00 Workshop "the basics of CLO 3D" by Giancarlo Pazzanese of dis_placed in Huis73
Tickets
Tickets for this program cost 10 euros and can be ordered here. The tickets include free lunch
Accessibility
The tour and workshop will be mainly in English.
No previous experience in CLO 3D is necessary to participate in this workshop.
We ask workshop participants to bring their own laptop which can run CLO 3D. If you do not have this, there is the possibility to use a laptop from the Digital Atelier.
The distance between Design Museum Den Bosch and Huis73 is 500 metres. If you need assistance or additional transport, please email youngdesign@designmuseum.nl
dis_placed
For dis_placed (Giancarlo Pazzanese), digital fashion offers the opportunity to expand the way we think about materiality, textures, bodies and gender. Giancarlo teaches fashion communication, visual merchandising, fashion history and graphic design. In his practice, a critical relationship to social, cultural and political issues such as gender fluidity and gender equality is central.
Screenwear
Screenwear – Exploring Digital Fashion displays the most diverse and groundbreaking designs and gives an insight into the short history of this emerging phenomenon. From the futuristic fashion designs of Auroboros and the digital collections of The Fabricant, the first non-binary avatar of the Institute of Digital Fashion to the hyper-realistic top model Shudu: in the digital world too, the way you present yourself tells everything about who you are, can or will be.
Digital Studio
The Digital Atelier is a new part of Huis73 where you can get acquainted, experiment and design with new technology. Young and old can attend activities and workshops at the intersection of art & technology.
Young Design
This workshop is part of the Young Design program. This department of the museum develops exhibitions and public programmes for a young and diverse audience. The focus is on young design makers, young design users and contemporary society.