17 September 2022 11.00 — 17.00 hours
Workshop Elisa van Joolen: PORTAL 012
Workshop
As part of the Sneakers Under Construction presentation, designer Elisa van Joolen has developed a new edition of PORTAL (2017 – present) together with the Young Design Team. In this unique masterclass edition of PORTAL you will have the opportunity to immerse yourself in the design and research practice of Elisa van Joolen. The intimate full-day workshop is divided into two parts. In the first part you will learn the tricks of the trade from Elisa and you will discuss texts, videos and objects together to gain insight into her research practice. In the second part of the day you will get to work on the research and design in a practical way. The Young Design Team will provide lunch.
This will be the 12th version of Elisa's PORTAL workshops. As in other editions, research into the value of clothing is central; participants are asked to take off a piece of clothing, place it in front of them on one large canvas and line it with tape. In the Design Museum, the focus will be on sneakers. Participants answer questions about the outlined sneaker, for example about origin, material, ownership and (emotional) value. Then, together with Van Joolen, the group connects the sneakers with similar characteristics with color-coded tape. The intersecting lines on the PORTAL canvas show a chaotic interplay of intersecting personal stories. The result is a collective canvas, on which the different colored lines show that in our sneakers there is a trace of connections between personal, economic, social, cultural and political areas.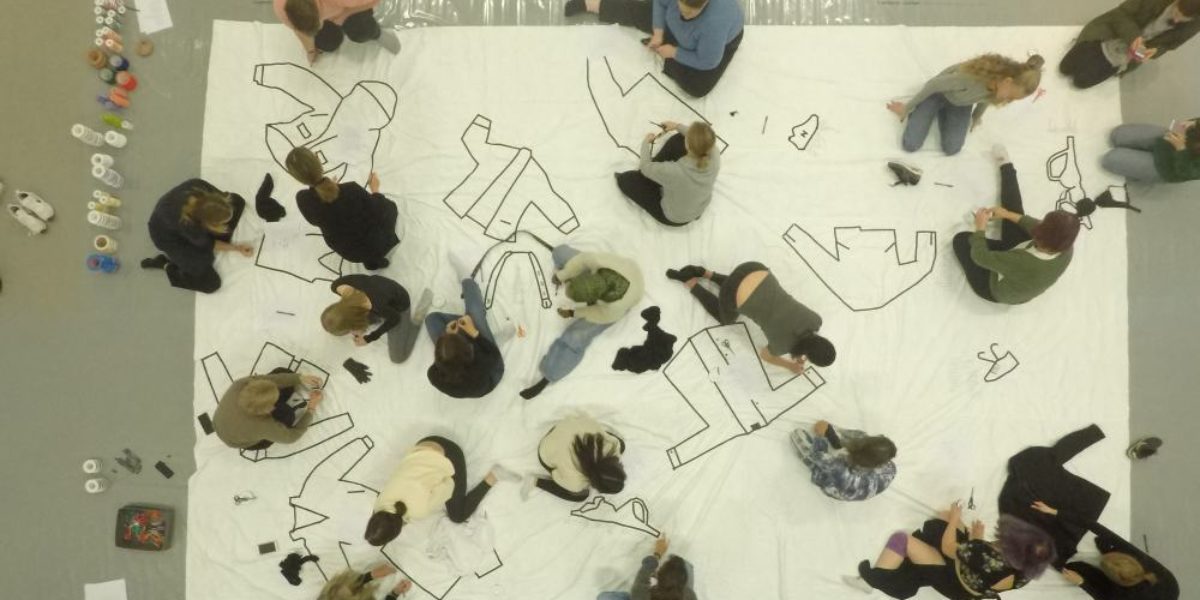 Elisa van Joolen

Amsterdam-based designer and artist Elisa van Joolen (NL/IT) is interested in the stories hidden behind our clothes. What are the social and economic structures in which everyday designs are created? Her work has been shown at Het Nieuwe Instituut in Rotterdam, Stedelijk Museum Amsterdam, Arnhem Fashion Biennial, Museum Boijmans van Beuningen in Rotterdam, 5th Brazilian Design Biennial in Florianopolis, Museum fur Kunst und Gewerbe in Hamburg, OCAT Art Terminal in Shenzhen and West Bund Art Center in Shanghai. Elisa is co-founder of " Warehouse | a place for clothes in context" in Amsterdam. Her work is currently on display at Design Museum Den Bosch in the exhibition Sneakers Unboxed.
www.elisavanjoolen.com
Young Design Team
This workshop is organized by the Young Design Team. This new department of the museum develops exhibitions, presentations and public programs for a young and diverse audience. The focus is on young design makers, young design users and contemporary society.
For this masterclass they mainly focus on young makers and creative students with artistic interests, but of course everyone is welcome! This workshop will be in English. For questions about accessibility, please contact youngdesignteam@designmuseum.nl